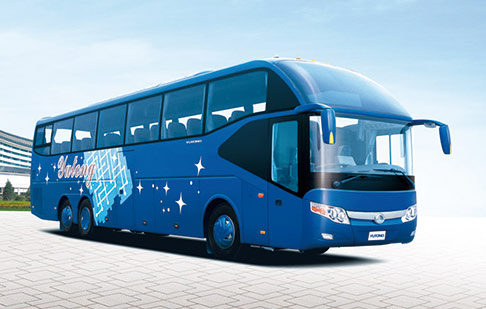 Appearance really matters
Grand and mighty appearance gives people a strong visual impact. Falcon-like headlamps and car-style taillights are elegant and also ensure the safety with sufficient light. New style rearview mirror and decorative cover of tires match well with the whole vehicle. Good-looking appearance can improve the occupancy rate effectively and enhance the image of your company.
Create great benefit for you
With the distinctive thermal management system of engines and powertrain matching technology, the fuel consumption can be reduced greatly, thus increasing the profitability. Larger passenger capacity comprehensively enhances the operating incomes. A number of ergonomic designs enable passengers to enjoy the whole journey and create greater value for you.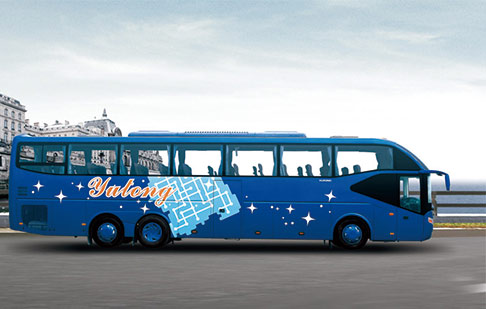 Exquisite Interiors, Upgraded Feelings
Luxury interiors take the sitting, standing and moving of passengers in the vehicle into account. The seat number ranks first among the vehicles of the same kind and meanwhile the ride comfort is ensured, thus improving operational benefits comprehensively. Humanized staircase design facilitates the boarding and alighting of passengers. Ergonomic seats can ease the fatigue of passengers. Comfortable and luxury interiors enable every passenger to enjoy a perfect trip.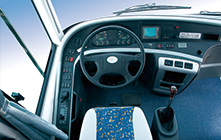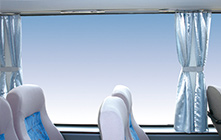 Specification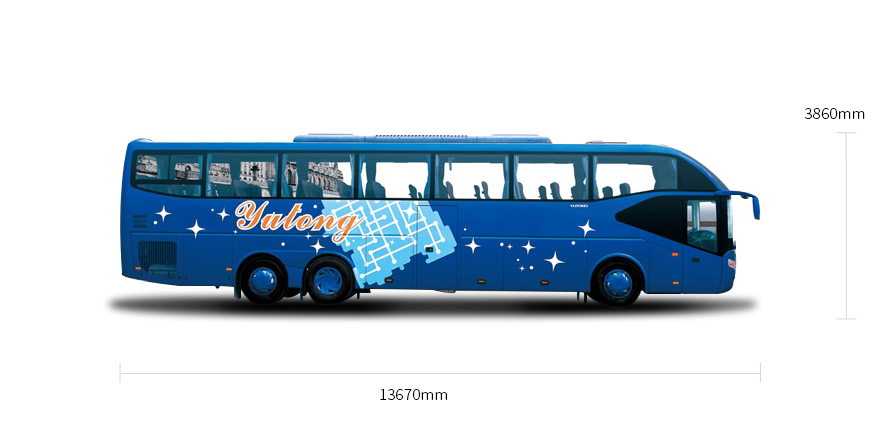 Basic parameters
Engine model

L360 20

Dimension(mm)

13670*2550*3860

G.V.W.(kg)

22000

Luggage compartment(M3)

8.4

Max. speed(km/h)

125
Chassis manufacturer

Yutong Bus Co., Ltd

Clutch

Outer diameter of friction lining 430, hydraulic remote control with air assistance

Gearbox

6-speed manual gearbox

Brake system

Dual circuit pneumatic brake, energy storage spring parking brake, ABS, retarder

Suspension system

Air suspension, bidirectional telescopic shock absorber

Tire

295/80R22.5

Fuel tank (L)

400

LHD/RHD

LHD/RHD

Others

-
Seats

59+1+1

Interiors

Integral luggage rack, reading lamp, air outlet, curtain

Air conditioner (A/C)

Non-independent roof-mounted A/C (38000kcal/h)

Heating system

None

Audio & video system

Multiple DVD player, 17" LCD monitor in the front, 15" electric foldable LCD monitor in the middle

Service parts

Electronic clock

Other facilities

Windshield wiper, remote control lock
*Special statement:
Due to the conversion period between vehicle update and network display, the graphics and text parameters of the page may be different from the actual vehicle. The graphics and text content of the page are not used as the basis for actual vehicle booking. The actual vehicle configuration determined by the specific model and technical parameters shall prevail. Prospective buyers shall contact Yutong sales staff to confirm and Yutong reserves the right to change the picture parameters and the final interpretation.
Download the product brochure
Online Service
Inform the user that item with *is required