87 Yutong apron buses to Saudi Arabia
On Sept. 4, the shipping ceremony of 87 apron buses exported from China to Saudi Arabia was held in Yutong New Energy Plant. It is the largest batch of apron buses exported from China. The delivery and operation of this batch vehicles will make ASG the largest apron bus operator in Saudi Arabia. With a market share of 60% in Saudi Arabia, Yutong apron bus covers more than 90% of the country's airports, providing safe, efficient and comfortable travel experience for tourists from all over the world.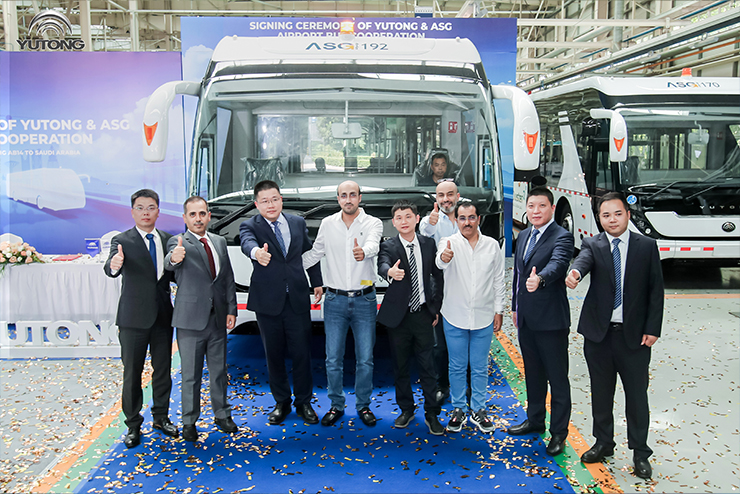 Win global trust with product strength, Yutong apron bus highly recognized in Saudi Arabia
Saudi Arabia has publicly purchased all kinds of airport ground service equipment in batches around the world. Finally, Yutong stood out among global candidates and became ASG's largest supplier of apron buses.
Saudi Arabia has a hot and dry climate with little rainfall all year round, and the average temperature in summer is as high as 45-50°C. Yutong conducted research and demonstration on the airport environment in Saudi Arabia and customer needs, and carried out directional R&D and manufacturing in combination with actual operation scenarios.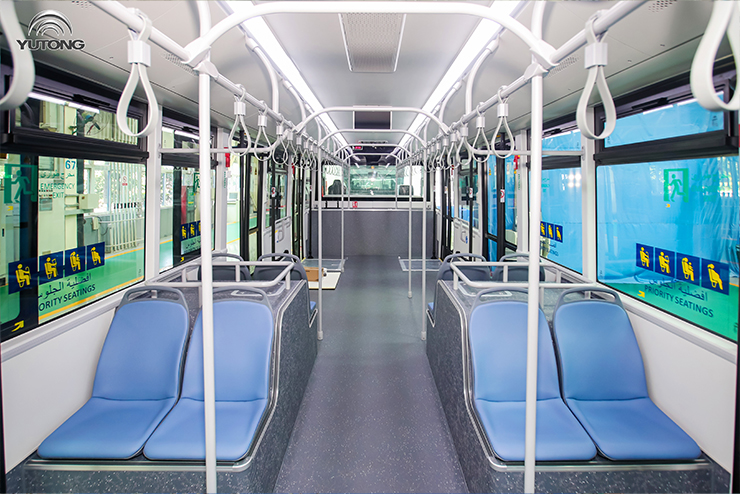 Yutong apron bus adopts robust closed ring full-monocoque body structure and relies on advanced cathode electrophoresis anti-corrosion process of the whole vehicle, which can ensure durability in high temperature and dry outdoor environment in Saudi Arabia. In terms of product details, the liftable electronically controlled air suspension and efficient, energy-saving and antibacterial high-power independent air conditioning system enhance the passenger experience.
Provide high-standard travel experience for global passengers through in-depth and meticulous planning
As the largest apron bus supplier in China, Yutong has long established its core advantages from R&D, production, sales and after-sales service. Its products are exported to more than 20 countries such as Maldives, Spain, United Kingdom, Italy, Kazakhstan and South Africa, providing shuttle services for 67 airports.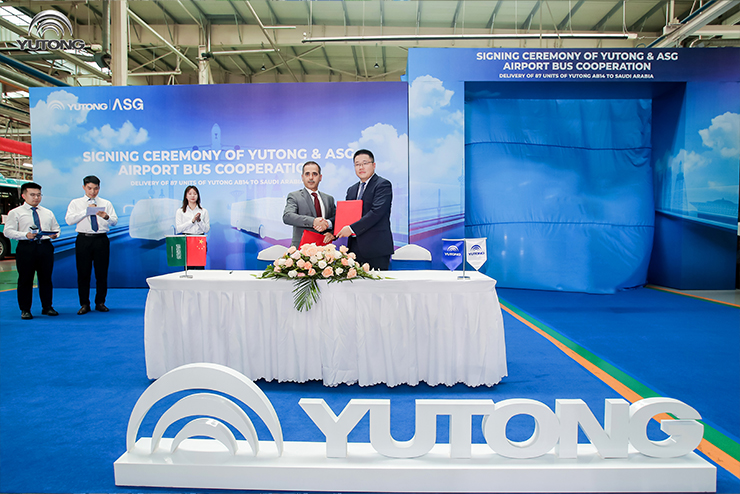 At this delivery ceremony, Yutong also signed a strategic cooperation agreement with ASG. Mr. SULIMAN ABDULLAH S ALASSIRI, General Manager of Nasser Abu Sarhad Establishment and Airport operation & management, said that they had established a deep trust relationship in early cooperation with Yutong, and expressed his appreciation to Yutong for the supports and efforts in this batch order.
In the future, Yutong and ASG will carry out deeper cooperation on apron buses, public transport and other products, and give full play to the advantages in new energy field to bring green energy to the "Kingdom of Desert".