Yutong Group and CATL Signed Agreement on 10-Year Long-term Strategic Cooperation
On the afternoon of August 9, the signing ceremony of the agreement on 10-year long-term strategic cooperation between Yutong Group and CATL was concluded. Speeches were delivered by both Tang Yuxiang, President of Yutong Group, and Zeng Yuqun, President of CATL, who were present at the ceremony to witness the agreement signing.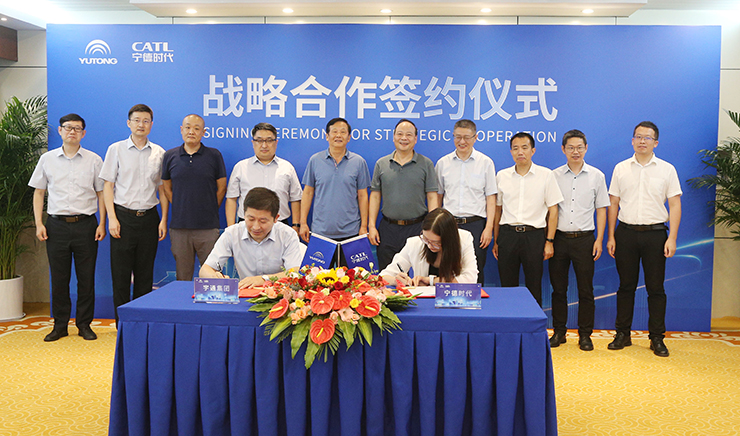 According to the agreement, Yutong and CATL will give play to their respective advantages to improve the linkage between the supply and demand, and create an effective synergy for competitive advantages. Sharing advantageous resources in buses, heavy trucks, light trucks, construction machinery, sanitation vehicles and other commercial vehicles, the two sides will join hands to promote the innovative development and application of new materials, new systems and new technologies, and formulate technical standards for commercial vehicle batteries, in a continued effort to lead the technical trend of commercial vehicles. Meanwhile, the two sides will also expand the international market hand in hand to implement the strategic goal of "vehicle and battery brands going global together".
Since 2012, Yutong and CATL have conducted a decade-long in-depth strategic cooperation. The two sides have worked together to lead the technical upgrading and the development of green and safe commercial vehicles to promote electrification of such vehicles, through joint R&D in electrical system technology upgrading, application of CTP (cell to pack) innovative technology and battery safety protections. So far, the two sides have provided a total of 30 billion kilometers of safe travel and reduced carbon emissions by more than 23 million tons.
In the new decade, Yutong and CATL will deepen strategic cooperation and continue to actively explore efficient and practical cooperation modes for mutual benefit and win-win results. At the same time, the two sides will steadily strengthen technological innovation, promote industrial technology upgrading and industrial green and low-carbon transformation, to contribute to realization of carbon neutrality in the transportation sector at an earlier date.